You are a pilot in 302 Kokutai, flying the J1N1-Sa "Gekko", a twin-engined nightfighter, equipped with one of the very first japanese airborne radars. The American B-29's have switched to low-level night bombing, and you are one of a few able to hunt them
The date is late May, 1945. After high altitude bombing attacks using general purpose bombs were observed to be ineffective, the USAAF in February changed their tactics to expand the coverage and increase the damage. The B-29 bombers are ordered the to fly lower and drop incendiary bombs to burn Japan's vulnerable wood-and-paper cities.
In March one of the tagets was Tokyo. In one night (9-10) 279 B-29's dropped around 1,700 tons of bombs, and approximately 41 square kilometers of the city were destroyed and some 100,000 people died in the resulting firestorm.
One of the few aircraft that can be used effectively in the night is the J1N1-Sa "Gekko", equipped with one of the very first airborne radars. In this single mission you get to try intercepting attacking B-29's over Kyushu.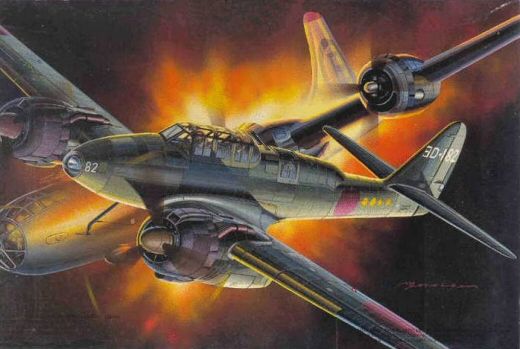 ON THE NAKAJIMA J1N1:
The Nakajima J1N1 "Gekko" was a twin-engine fighter designed to escort bombers, flying for the first time in 1941 Because of the sluggish handling that idea had to be abandoned. Instead, it was employed as a reconnaissance aircraft.
In 1943 over Rabaul some J1N1's were was used as a improvised night fighter, armed with two field fitted 20 mm cannons at 30 degree angle in the fuselage. The arrangement proved successful, and the Navy placed orders with Nakajima for the newly designated J1N1-S nightfighter design. This model was christened the Model 11 Gekko ("Moonlight").
The J1N1-S was used against B-29 Superfortresses in Japan, though the lack of good radar and insufficient high-altitude performance handicapped it, since usually only one pass could be made against the higher-speed B-29s.
However, some skillful pilots had spectacular successes, such as Lieutenant Sachio Endo, who was credited with destroying eight B-29s and damaging another eight before he was shot down by a B-29 crew, Shigetoshi Kudo (nine victories), Shiro Kuratori (six victories), and Juzo Kuramoto (eight victories); the last two claimed five B-29s during the night of 25-26 May 1945.
DOWNLOAD THE GEKKO HERE!
NOTE:
A successful intercept depends on you following the directions that you will get from the Ground Control Radar (GCI) and your own Radar Operator (RO). This information will appear on the screen as text. Just following the way-points on the map will not be enough.
SPECIAL THANKS:
To
Ten010
, who has built the J1N1 for us all to enjoy! And to
CY6
, who built the C&C Mod, making more realistic nightfighting possible.
Version History
1.0 Posted on January 12, 2013.
2.0 Added full range of C&C Nightfighting Mods.
Have fun!
/Poltava